2021 LISVH Tribute to Veterans Day
To all Veterans, THANK YOU for your service.
The LISVH has had the distinguished honor of caring for more than 15,000 Veterans over the last 30 years. To each Veteran who we have had the privilege to care for, WE SALUTE YOU.
"As we express our gratitude, we must never forget that the highest appreciation is not to utter words, but to live by them". - John F. Kennedy
Please join us in viewing the Long Island State Veterans Home's Virtual Veterans Day Ceremony.
Click here to view the LISVH Virtual Veterans Day Ceremony
Special thanks to Marissa Lien, LISVH Music Therapist, for creating this outstanding video for our residents, families and employees to enjoy!!!
A very special thank you to Cona Law for sending over well wishes this Veterans Day! To view Cona Law's video to our Veterans please CLICK HERE.
God Bless our Veterans, their families and the United States of America!
---
LISVH 19th Annual Golf Classic: Thursday, September 23rd, 2021
The LISVH would like to take a moment to thank our Golfers, Sponsors, Vendors, Staff and Volunteers for another wonderful event.
The COVID 19 virus has affected the way we are able to offer our programs and services, but the residents still benefit from our ability to offer engaging activities, which maximize quality of life. If you are interested in making a contribution towards the LISVH to support those who have valiantly served our nation please visit us on the web at https://veteranshome.stonybrookmedicine.edu/donate.
Thank you for your ongoing support, we look forward to seeing you for next year's event on Thursday September 29th, 2022!
Questions? Please call 631-444-8606.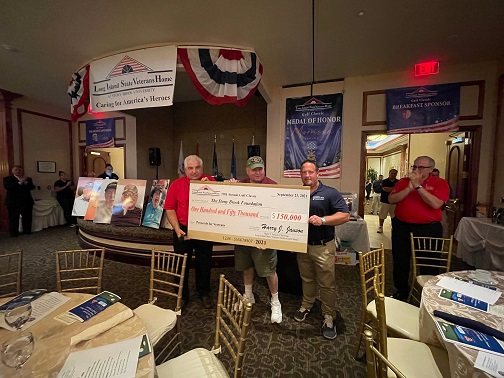 ---
In response to the COVID-19 pandemic, we have upgraded our HVAC (heating, ventilation and air conditioning) systems. We recently completed installation of ultra violet lighting into our six air handler units that service our Home. The UV lighting addition has been shown to reduce the amount of airborne viruses and bacteria and enhance overall air quality. We are pleased to share this recent upgrade with you and let you know that we continue to evaluate additional systems that would improve our environment. Resident, Staff and Visitor safety and comfort remain our top priority.
Thank you for your support as we continue to enhance our facility and exterior grounds.  
---
Toby Keith Visits LISVH
Our residents enjoyed an afternoon with a fellow Patriot, thank you Toby for visiting our Home!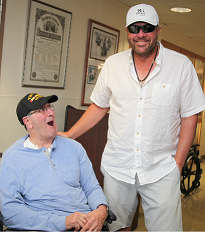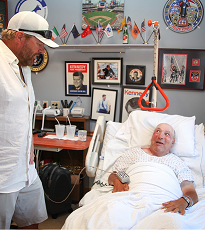 Not only did Toby spend time at the Home, but he invited our residents as honored guests to his performance at the Brookhaven Amphitheater, where he brought them up on stage to sing the last song of the night. It was truly a night to remember for LISVH!!!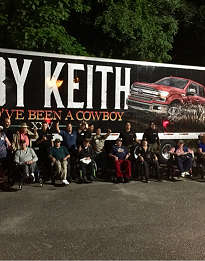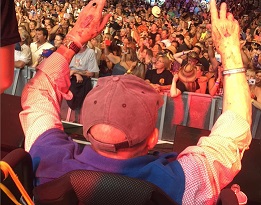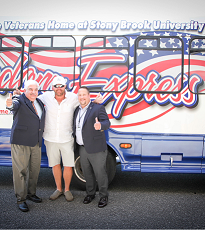 ---
LISVH Launches Virtual Reality
The LI State Veterans Home is launching a new and innovative program to enable the veterans at the facility to go beyond the walls of the nursing home. Whether you are exploring the Ganges River on a 360 degree view guided tour, experiencing flight from a fighter jet off the deck of the USS Eisenhower, snorkeling at the Great Barrier Reef or re-visiting your honeymoon destination in Maui, VR makes the veteran's experience possible.
Donning specialized headsets, Virtual Reality (VR) will enable veterans to experience a whole new world of possibilities as it relates to travel, entertainment, education and other unique encounters that they would not be able to achieve due to physical limitations.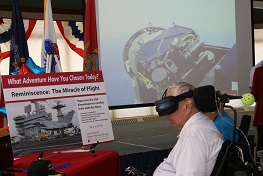 The goal of the program is to provide an immersive and meaningful experience for aging veterans living in the State Veterans Home. Led by Certified Recreation Therapists, Virtual Reality will be offered to residents of varying cognitive abilities with a focus on promoting adventure and education while providing a fulfilling and interactive experience. The use of a Virtual Reality program will benefit veterans suffering from PTSD, depression, dementia and other diseases by encouraging conversation, creating excitement, and increasing the potential for happiness, wellness, stimulation, and social involvement.
LISVH VR News Coverage:
---
LISVH Welcomes the Victory Belles
A special thank you to BAE Systems for sponsoring this wonderful event.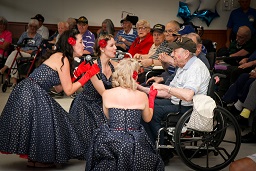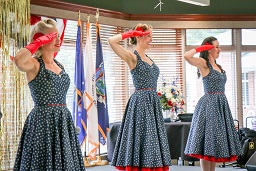 The Victory Belles represent the patriotic fabric of World War II America in keeping the sentimental musical history of the 40s alive with regular performances every Wednesday at the National WWII Museum's Stage Door Canteen, as well as across the country and overseas.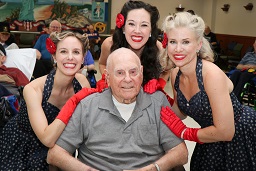 The National WWII Museum's Victory Belles are an elegant and charming vocal trio who travel the globe delighting audiences with their spirited performances, which feature dazzling costumes, audience interaction, and musical hits to include Boogie Woogie Bugle Boy, Don't Sit Under the Apple Tree, Rum and Coca Cola, God Bless America, and the Service Medley, all sung in rich, three-part harmony.
---
Vietnam Medal Ceremony
LISVH hosted the 50th Anniversary Vietnam Commemorative Medal Ceremony. The Long Island Air Force Association is an approved sponsor of the Department of Defense Vietnam Commemorative Medal Program. Under the direction of Fred Difabio and Bill Stratemeier, we were honored to present our Nations Heroes with this medal.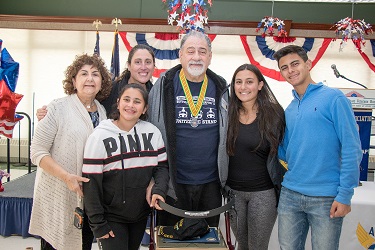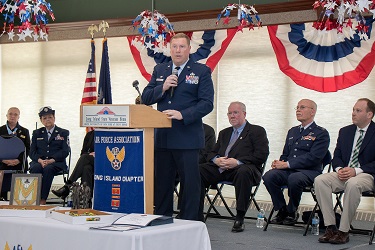 LISVH honored guest, Congressman Lee Zeldin, presents a medal to recipient, Raymond Stein.