NEWS
Flag Disposal
Tattered, faded or damaged flags may be retired properly at the VFW locations listed in the link below.
---
LISVH Celebrates The Concert Under the Stars!!!
On Thursday August 16th, 2018 LISVH celebrated with the West Point Concert Band, 125 residents and over 1500 community members under the stars. Be sure to join us next year for an evening filled with great music, delicious food and raffles!!!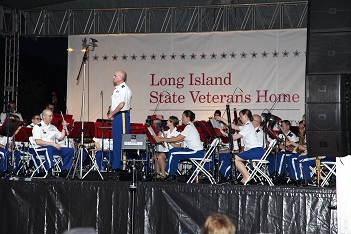 ---
TOBY KEITH VISITS LISVH
Our residents enjoyed an afternoon with a fellow Patriot, thank you Toby for visiting our Home!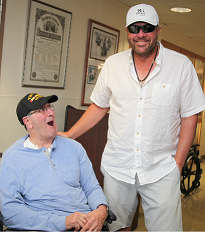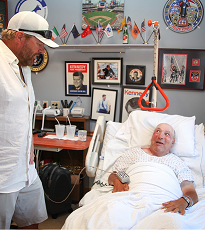 Not only did Toby spend time at the Home, but he invited our residents as honored guests to his performance at the Brookhaven Amphitheater, where he brought them up on stage to sing the last song of the night. It was truly a night to remember for LISVH!!!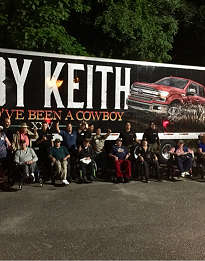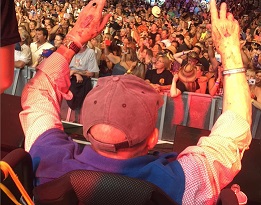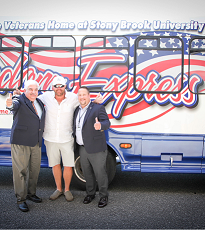 ---
IMPORTANT CONSTRUCTION NEWS!
OPERATION : WHITE STRIPES
The Long Island State Veterans Home is beginning its fourth active project on campus BEGINNING Friday, June 29th, 2018.
Project No. 4 : Operation White Stripes: The addition of 90+ new parkings spaces and the rebuilding of existing lots and roadways to include all new LED exterior lighting and a proper walkway (with rest stops) along Patriots Road between the Home and Medical Services Drive.  This will be a multi-year, Five Phase project that initially will force the Home to lose some parking in the early stages of the project.  We continue to negotiate this and will post updates with temporary solutions as soon as they are available.
Click here for additional details regarding the construction projects.

---
Interested in becoming a CNA or looking for a way to join the LISVH Team?
Please Join LISVH for a CNA Open House!!!
Date: Wednesday, August 15, 2018
Morning Session: 11:00 AM – 2:00 PM
Evening Session: 5:00 PM – 6:00 PM
Long Island State Veterans Home, East Pavilion Classroom
Click Here to view our Open House Flyer for more information
---
Memorial Day 2018

As Amer­i­cans, may we never for­get those who fought for our free­dom, and may we cel­e­brate the lives of those who have truly made Amer­ica the land of the free and the home of the brave.
God Bless our fallen, their families, and the men and women in uniform all over the world.
May 25th, 2018 our LISVH residents remembered thier comrades in a beautiful service.
---
LISVH 17th Annual Golf Classic
Throughout the more than 25 year history of the Long Island State Veterans Home, our staff and volunteers have taken great pride in providing comprehensive long term care to more than 8,000 men and women who so valiantly risked their lives in defense of our nation. Click here to find out more information about our Golf Classic.
In an effort to continue to improve the quality of care we provide for our veterans and their families, on Thursday, September 20, 2018, we will host our Seventeenth Annual Golf Classic!!!
---
What Adventure Have You Chosen Today?
LISVH Launches Virtual Reality
The LI State Veterans Home is launching a new and innovative program to enable the veterans at the facility to go beyond the walls of the nursing home. Whether you are exploring the Ganges River on a 360 degree view guided tour, experiencing flight from a fighter jet off the deck of the USS Eisenhower, snorkeling at the Great Barrier Reef or re-visiting your honeymoon destination in Maui, VR makes the veteran's experience possible.
Donning specialized headsets, Virtual Reality (VR) will enable veterans to experience a whole new world of possibilities as it relates to travel, entertainment, education and other unique encounters that they would not be able to achieve due to physical limitations.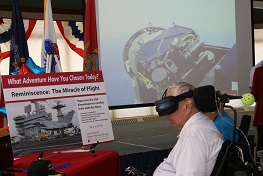 The goal of the program is to provide an immersive and meaningful experience for aging veterans living in the State Veterans Home. Led by Certified Recreation Therapists, Virtual Reality will be offered to residents of varying cognitive abilities with a focus on promoting adventure and education while providing a fulfilling and interactive experience. The use of a Virtual Reality program will benefit veterans suffering from PTSD, depression, dementia and other diseases by encouraging conversation, creating excitement, and increasing the potential for happiness, wellness, stimulation, and social involvement.
LISVH VR News Coverage:
McKnights Long Term Care: VR company helpys Veterans
---
LISVH Welcomes the Victory Belles
A special thank you to BAE Systems for sponsoring this wonderful event.
The Victory Belles represent the patriotic fabric of World War II America in keeping the sentimental musical history of the 40s alive with regular performances every Wednesday at the National WWII Museum's Stage Door Canteen, as well as across the country and overseas.
The National WWII Museum's Victory Belles are an elegant and charming vocal trio who travel the globe delighting audiences with their spirited performances, which feature dazzling costumes, audience interaction, and musical hits to include Boogie Woogie Bugle Boy, Don't Sit Under the Apple Tree, Rum and Coca Cola, God Bless America, and the Service Medley, all sung in rich, three-part harmony.
---
VIETNAM MEDAL CEREMONY April 21st, 2018
Eighteen of our LISVH residents and two community members were awarded the Vietnam Commemorative Medal. The Long Island Air Force Association is an approved sponsor of the Department of Defense Vietnam Commemorative Medal Program. Under the direction of Fred Defabio, we were honored to present our Nations Heroes with this medal.
The front side of the coin represented the DOD official commemorative emblem, the reverse side is the official logo of the Air Force Association.
---
UPCOMING EVENTS
---
WALK TO END ALZHEIMER'S
Join LISVH for the Walk to End Alzheimer's Event on Sunday, September 23th, 2018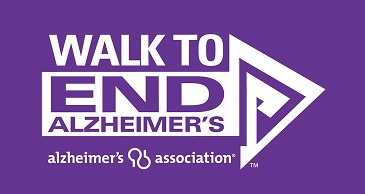 Time: 9:30am- 11:30am
Location: Belmont Lake State Park Exit 38 on the Southern State, North Babylon, NY 11703          
To WALK or DONATE please contact Jean Brand in Adult Day Health Care at 631-444-8530 or
visit our Team Page at   http://act.alz.org/site/TR/Walk2018/NY-LongIsland?team_id=454516&pg=team&fr_id=11405
Every step counts!!!             
---