CORONAVIRUS (COVID-19) INFORMATION CENTER
World Health Organization (WHO): What is Coronavirus?
Centers for Disease Control and Prevention (CDC): How to Protect Yourself!
Centers for Disease Control and Prevention (CDC): What to Expect After Getting a COVID 19 Vaccine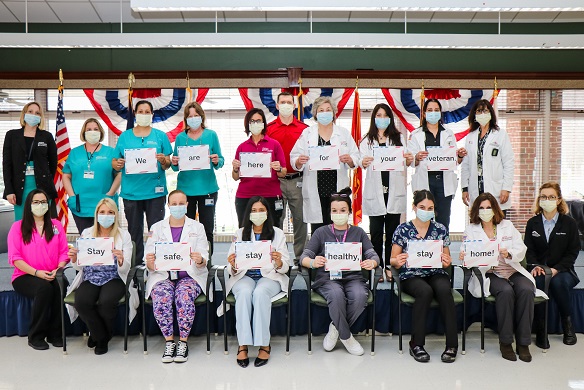 1st Dose Pfizer Vaccinations for Stony Brook Medicine Phase 1A Employees
Stony Brook University Hospital is now offering COVID vaccination to employees based on the prioritization scheme devised by the CDC and the New York State Department of Health. We are now scheduling appointments for first dose vaccine PODs to be held on Friday, January 29th & Saturday, January 30th as detailed below. Phase 1a workers are those who work in SBM in any patient facing role.
DO NOT REGISTER AT THIS TIME IF ANY OF THE FOLLOWING APPLY: 
You have had a flu shot or any vaccine within the previous 14 days 

You have any symptoms concerning for COVID-19 

You had a positive COVID-19 test within the previous 10 days 

You have been told by healthcare provider or health department to quarantine due to COVID 19 exposure in the last 10 days 

You are on quarantine due to recent travel 

You have been treated with antibody therapy for COVID-19 in the past 90 days
If any of the above apply to you DO NOT register now and you will be invited to another POD in the future. Otherwise you are encouraged to take this opportunity to register now for one of these PODs.
COVID-19 Vaccine POD Details: 
Date:                 Friday, January 29th, 2021 
Time:                7 AM to 7 PM 
Location:          SBUH 101 Nicolls Road 
MART Level 4 Room 4W-0101
COVID-19 Vaccine POD Details: 
Date:                 Saturday, January 30th, 2021 
Time:                8 AM to 7 PM 
Location:          TO BE DETERMINED. YOU WILL RECEIVE AN EMAIL CONFIRMATION WITH THE LOCATION
CLICK HERE TO SCHEDULE 1ST DOSE PFIZER VACCINE FOR SATURDAY 1/30/21
Messages of Support from our Community
Messages from our Community Video 1
Messages from our Community Video 2
Messages from our Community Video 3
Messages From Mick Foley - WWE Wrestler 
https://www.facebook.com/watch/?v=2646598382225676
Family Resources:
LISVH COVID-19 Facility Updates
Information Letter: 12/31/2020
Information Letter: 12/29/2020
Information Letter: 12/24/2020
Information Letter: 12/22/2020
Information Letter: 12/18/2020
Information Letter: 12/15/2020
Information Letter: 12/11/2020
Information Letter: 11/27/2020
Information Letter: 11/24/2020
Information Letter: 11/20/2020
Information Letter: 11/17/2020
Information Letter: 11/13/2020
Information Letter: 11/10/2020
Information Letter: 10/30/2020
Information Letter: 10/27/2020
Information Letter: 10/23/2020
Information Letter: 10/20/2020
Information Letter: 10/16/2020
Information Letter: 10/13/2020
Executive Order 202.18/202.72 & CMS Guidance QSO-20-29-NH - Daily COVID-19 Information Notification to Family, Health Care Proxy, & Next of Kin 
Executive Order 202.18/202.72 & CMS Guidance QSO-20-29-NH COVID-19 Information: 3/8/2021
Executive Order 202.18/202.72 & CMS Guidance QSO-20-29-NH COVID-19 Information: 3/7/2021
Executive Order 202.18/202.72 & CMS Guidance QSO-20-29-NH COVID-19 Information: 3/6/2021
Executive Order 202.18/202.72 & CMS Guidance QSO-20-29-NH COVID-19 Information: 3/5/2021
Executive Order 202.18/202.72 & CMS Guidance QSO-20-29-NH COVID-19 Information: 3/4/2021
Executive Order 202.18/202.72 & CMS Guidance QSO-20-29-NH COVID-19 Information: 3/3/2021
Executive Order 202.18/202.72 & CMS Guidance QSO-20-29-NH COVID-19 Information: 3/2/2021
Executive Order 202.18/202.72 & CMS Guidance QSO-20-29-NH COVID-19 Information: 3/1/2021
Executive Order 202.18/202.72 & CMS Guidance QSO-20-29-NH COVID-19 Information: 2/28/2021
Executive Order 202.18/202.72 & CMS Guidance QSO-20-29-NH COVID-19 Information: 2/27/2021
Executive Order 202.18/202.72 & CMS Guidance QSO-20-29-NH COVID-19 Information: 2/26/2021
Executive Order 202.18/202.72 & CMS Guidance QSO-20-29-NH COVID-19 Information: 2/25/2021
Executive Order 202.18/202.72 & CMS Guidance QSO-20-29-NH COVID-19 Information: 2/24/2021
Executive Order 202.18/202.72 & CMS Guidance QSO-20-29-NH COVID-19 Information: 2/23/2021
Executive Order 202.18/202.72 & CMS Guidance QSO-20-29-NH COVID-19 Information: 2/22/2021
Executive Order 202.18/202.72 & CMS Guidance QSO-20-29-NH COVID-19 Information: 2/21/2021
Executive Order 202.18/202.72 & CMS Guidance QSO-20-29-NH COVID-19 Information: 2/20/2021
Executive Order 202.18/202.72 & CMS Guidance QSO-20-29-NH COVID-19 Information: 2/19/2021
Executive Order 202.18/202.72 & CMS Guidance QSO-20-29-NH COVID-19 Information: 2/18/2021
Executive Order 202.18/202.72 & CMS Guidance QSO-20-29-NH COVID-19 Information: 2/17/2021
Executive Order 202.18/202.72 & CMS Guidance QSO-20-29-NH COVID-19 Information: 2/16/2021
Executive Order 202.18/202.72 & CMS Guidance QSO-20-29-NH COVID-19 Information: 2/15/2021
Executive Order 202.18/202.72 & CMS Guidance QSO-20-29-NH COVID-19 Information: 2/14/2021
Executive Order 202.18/202.72 & CMS Guidance QSO-20-29-NH COVID-19 Information: 2/13/2021
Executive Order 202.18/202.72 & CMS Guidance QSO-20-29-NH COVID-19 Information: 2/12/2021
Executive Order 202.18/202.72 & CMS Guidance QSO-20-29-NH COVID-19 Information: 2/11/2021
Executive Order 202.18/202.72 & CMS Guidance QSO-20-29-NH COVID-19 Information: 2/10/2021
Executive Order 202.18/202.72 & CMS Guidance QSO-20-29-NH COVID-19 Information: 2/9/2021
Executive Order 202.18/202.72 & CMS Guidance QSO-20-29-NH COVID-19 Information: 2/8/2021
Executive Order 202.18/202.72 & CMS Guidance QSO-20-29-NH COVID-19 Information: 2/7/2021
Executive Order 202.18/202.72 & CMS Guidance QSO-20-29-NH COVID-19 Information: 2/6/2021
Executive Order 202.18/202.72 & CMS Guidance QSO-20-29-NH COVID-19 Information: 2/5/2021
Executive Order 202.18/202.72 & CMS Guidance QSO-20-29-NH COVID-19 Information: 2/4/2021
Executive Order 202.18/202.72 & CMS Guidance QSO-20-29-NH COVID-19 Information: 2/3/2021
Executive Order 202.18/202.72 & CMS Guidance QSO-20-29-NH COVID-19 Information: 2/2/2021
Executive Order 202.18/202.72 & CMS Guidance QSO-20-29-NH COVID-19 Information: 2/1/2021
Executive Order 202.18/202.72 & CMS Guidance QSO-20-29-NH COVID-19 Information: 1/31/2021
Executive Order 202.18/202.72 & CMS Guidance QSO-20-29-NH COVID-19 Information: 1/30/2021
Executive Order 202.18/202.72 & CMS Guidance QSO-20-29-NH COVID-19 Information: 1/29/2021
Executive Order 202.18/202.72 & CMS Guidance QSO-20-29-NH COVID-19 Information: 1/28/2021
Executive Order 202.18/202.72 & CMS Guidance QSO-20-29-NH COVID-19 Information: 1/27/2021
Executive Order 202.18/202.72 & CMS Guidance QSO-20-29-NH COVID-19 Information: 1/26/2021
Executive Order 202.18/202.72 & CMS Guidance QSO-20-29-NH COVID-19 Information: 1/25/2021
Executive Order 202.18/202.72 & CMS Guidance QSO-20-29-NH COVID-19 Information: 1/24/2021
Executive Order 202.18/202.72 & CMS Guidance QSO-20-29-NH COVID-19 Information: 1/23/2021
Executive Order 202.18/202.72 & CMS Guidance QSO-20-29-NH COVID-19 Information: 1/22/2021
Executive Order 202.18/202.72 & CMS Guidance QSO-20-29-NH COVID-19 Information: 1/21/2021
Executive Order 202.18/202.72 & CMS Guidance QSO-20-29-NH COVID-19 Information: 1/20/2021
Executive Order 202.18/202.72 & CMS Guidance QSO-20-29-NH COVID-19 Information: 1/19/2021
Executive Order 202.18/202.72 & CMS Guidance QSO-20-29-NH COVID-19 Information: 1/18/2021
Executive Order 202.18/202.72 & CMS Guidance QSO-20-29-NH COVID-19 Information: 1/17/2021
Executive Order 202.18/202.72 & CMS Guidance QSO-20-29-NH COVID-19 Information: 1/16/2021
Executive Order 202.18/202.72 & CMS Guidance QSO-20-29-NH COVID-19 Information: 1/15/2021
Executive Order 202.18/202.72 & CMS Guidance QSO-20-29-NH COVID-19 Information: 1/14/2021
Executive Order 202.18/202.72 & CMS Guidance QSO-20-29-NH COVID-19 Information: 1/13/2021
Executive Order 202.18/202.72 & CMS Guidance QSO-20-29-NH COVID-19 Information: 1/12/2021
Executive Order 202.18/202.72 & CMS Guidance QSO-20-29-NH COVID-19 Information: 1/11/2021
Executive Order 202.18/202.72 & CMS Guidance QSO-20-29-NH COVID-19 Information: 1/10/2021
Executive Order 202.18/202.72 & CMS Guidance QSO-20-29-NH COVID-19 Information: 1/9/2021
Executive Order 202.18/202.72 & CMS Guidance QSO-20-29-NH COVID-19 Information: 1/8/2021
Executive Order 202.18/202.72 & CMS Guidance QSO-20-29-NH COVID-19 Information: 1/7/2021
Executive Order 202.18/202.72 & CMS Guidance QSO-20-29-NH COVID-19 Information: 1/6/2021
Executive Order 202.18/202.72 & CMS Guidance QSO-20-29-NH COVID-19 Information: 1/5/2021
Executive Order 202.18/202.72 & CMS Guidance QSO-20-29-NH COVID-19 Information: 1/4/2021
Executive Order 202.18/202.72 & CMS Guidance QSO-20-29-NH COVID-19 Information: 1/3/2021
Executive Order 202.18/202.72 & CMS Guidance QSO-20-29-NH COVID-19 Information: 1/2/2021
Executive Order 202.18/202.72 & CMS Guidance QSO-20-29-NH COVID-19 Information: 1/1/2021
Executive Order 202.18/202.72 & CMS Guidance QSO-20-29-NH COVID-19 Information: 12/31/2020
Executive Order 202.18/202.72 & CMS Guidance QSO-20-29-NH COVID-19 Information: 12/30/2020
Executive Order 202.18/202.72 & CMS Guidance QSO-20-29-NH COVID-19 Information: 12/29/2020
Executive Order 202.18/202.72 & CMS Guidance QSO-20-29-NH COVID-19 Information: 12/28/2020
Executive Order 202.18/202.72 & CMS Guidance QSO-20-29-NH COVID-19 Information: 12/27/2020
Executive Order 202.18/202.72 & CMS Guidance QSO-20-29-NH COVID-19 Information: 12/26/2020
Executive Order 202.18/202.72 & CMS Guidance QSO-20-29-NH COVID-19 Information: 12/25/2020
Executive Order 202.18/202.72 & CMS Guidance QSO-20-29-NH COVID-19 Information: 12/24/2020
Executive Order 202.18/202.72 & CMS Guidance QSO-20-29-NH COVID-19 Information: 12/23/2020
Executive Order 202.18/202.72 & CMS Guidance QSO-20-29-NH COVID-19 Information: 12/22/2020
Executive Order 202.18/202.72 & CMS Guidance QSO-20-29-NH COVID-19 Information: 12/21/2020
Executive Order 202.18/202.72 & CMS Guidance QSO-20-29-NH COVID-19 Information: 12/20/2020
Executive Order 202.18/202.72 & CMS Guidance QSO-20-29-NH COVID-19 Information: 12/19/2020
Executive Order 202.18/202.72 & CMS Guidance QSO-20-29-NH COVID-19 Information: 12/18/2020
Executive Order 202.18/202.72 & CMS Guidance QSO-20-29-NH COVID-19 Information: 12/17/2020
Executive Order 202.18/202.72 & CMS Guidance QSO-20-29-NH COVID-19 Information: 12/16/2020
Executive Order 202.18/202.72 & CMS Guidance QSO-20-29-NH COVID-19 Information: 12/15/2020
Executive Order 202.18/202.72 & CMS Guidance QSO-20-29-NH COVID-19 Information: 12/14/2020
Executive Order 202.18/202.72 & CMS Guidance QSO-20-29-NH COVID-19 Information: 12/13/2020
Executive Order 202.18/202.72 & CMS Guidance QSO-20-29-NH COVID-19 Information: 12/12/2020
Executive Order 202.18/202.72 & CMS Guidance QSO-20-29-NH COVID-19 Information: 12/11/2020
Executive Order 202.18/202.72 & CMS Guidance QSO-20-29-NH COVID-19 Information: 12/10/2020
Executive Order 202.18/202.72 & CMS Guidance QSO-20-29-NH COVID-19 Information: 12/9/2020
Executive Order 202.18/202.72 & CMS Guidance QSO-20-29-NH COVID-19 Information: 12/8/2020
Executive Order 202.18/202.72 & CMS Guidance QSO-20-29-NH COVID-19 Information: 12/7/2020
Executive Order 202.18/202.72 & CMS Guidance QSO-20-29-NH COVID-19 Information: 12/6/2020
Executive Order 202.18/202.72 & CMS Guidance QSO-20-29-NH COVID-19 Information: 12/5/2020
Executive Order 202.18/202.72 & CMS Guidance QSO-20-29-NH COVID-19 Information: 12/4/2020
Executive Order 202.18/202.72 & CMS Guidance QSO-20-29-NH COVID-19 Information: 12/3/2020
Executive Order 202.18/202.72 & CMS Guidance QSO-20-29-NH COVID-19 Information: 12/2/2020
Executive Order 202.18/202.72 & CMS Guidance QSO-20-29-NH COVID-19 Information: 12/1/2020
Executive Order 202.18/202.72 & CMS Guidance QSO-20-29-NH COVID-19 Information: 11/30/2020
Executive Order 202.18/202.72 & CMS Guidance QSO-20-29-NH COVID-19 Information: 11/29/2020
Executive Order 202.18/202.72 & CMS Guidance QSO-20-29-NH COVID-19 Information: 11/28/2020
Executive Order 202.18/202.72 & CMS Guidance QSO-20-29-NH COVID-19 Information: 11/27/2020
Executive Order 202.18/202.72 & CMS Guidance QSO-20-29-NH COVID-19 Information: 11/26/2020
Executive Order 202.18/202.72 & CMS Guidance QSO-20-29-NH COVID-19 Information: 11/25/2020
Executive Order 202.18/202.72 & CMS Guidance QSO-20-29-NH COVID-19 Information: 11/24/2020
Executive Order 202.18/202.72 & CMS Guidance QSO-20-29-NH COVID-19 Information: 11/23/2020
Executive Order 202.18/202.72 & CMS Guidance QSO-20-29-NH COVID-19 Information: 11/22/2020
Executive Order 202.18/202.72 & CMS Guidance QSO-20-29-NH COVID-19 Information: 11/21/2020
Executive Order 202.18/202.72 & CMS Guidance QSO-20-29-NH COVID-19 Information: 11/20/2020
Executive Order 202.18/202.72 & CMS Guidance QSO-20-29-NH COVID-19 Information: 11/19/2020
Executive Order 202.18/202.72 & CMS Guidance QSO-20-29-NH COVID-19 Information: 11/18/2020
Executive Order 202.18/202.72 & CMS Guidance QSO-20-29-NH COVID-19 Information: 11/17/2020
Executive Order 202.18/202.72 & CMS Guidance QSO-20-29-NH COVID-19 Information: 11/16/2020
Executive Order 202.18/202.72 & CMS Guidance QSO-20-29-NH COVID-19 Information: 11/15/2020
Executive Order 202.18/202.72 & CMS Guidance QSO-20-29-NH COVID-19 Information: 11/14/2020
Executive Order 202.18/202.72 & CMS Guidance QSO-20-29-NH COVID-19 Information: 11/13/2020
Executive Order 202.18/202.72 & CMS Guidance QSO-20-29-NH COVID-19 Information: 11/12/2020
Executive Order 202.18/202.72 & CMS Guidance QSO-20-29-NH COVID-19 Information: 11/11/2020
Executive Order 202.18/202.72 & CMS Guidance QSO-20-29-NH COVID-19 Information: 11/10/2020
Executive Order 202.18/202.72 & CMS Guidance QSO-20-29-NH COVID-19 Information: 11/9/2020
Executive Order 202.18/202.72 & CMS Guidance QSO-20-29-NH COVID-19 Information: 11/8/2020
Executive Order 202.18/202.72 & CMS Guidance QSO-20-29-NH COVID-19 Information: 11/7/2020
Executive Order 202.18/202.72 & CMS Guidance QSO-20-29-NH COVID-19 Information: 11/6/2020
Executive Order 202.18/202.72 & CMS Guidance QSO-20-29-NH COVID-19 Information: 11/5/2020
Executive Order 202.18 CMS Guidance QSO-20-29-NH COVID-19 Information: 11/4/2020
Executive Order 202.18 CMS Guidance QSO-20-29-NH COVID-19 Information: 11/3/2020
Executive Order 202.18 CMS Guidance QSO-20-29-NH COVID-19 Information: 11/2/2020
Executive Order 202.18 CMS Guidance QSO-20-29-NH COVID-19 Information: 11/1/2020
Executive Order 202.18 CMS Guidance QSO-20-29-NH COVID-19 Information: 10/31/2020
Executive Order 202.18 CMS Guidance QSO-20-29-NH COVID-19 Information: 10/30/2020
Executive Order 202.18 CMS Guidance QSO-20-29-NH COVID-19 Information: 10/29/2020
Executive Order 202.18 CMS Guidance QSO-20-29-NH COVID-19 Information: 10/28/2020
Executive Order 202.18 CMS Guidance QSO-20-29-NH COVID-19 Information: 10/27/2020
Executive Order 202.18 CMS Guidance QSO-20-29-NH COVID-19 Information: 10/26/2020
Executive Order 202.18 CMS Guidance QSO-20-29-NH COVID-19 Information: 10/25/2020
Executive Order 202.18 CMS Guidance QSO-20-29-NH COVID-19 Information: 10/24/2020
Executive Order 202.18 CMS Guidance QSO-20-29-NH COVID-19 Information: 10/23/2020
Executive Order 202.18 CMS Guidance QSO-20-29-NH COVID-19 Information: 10/22/2020
Executive Order 202.18 CMS Guidance QSO-20-29-NH COVID-19 Information: 10/21/2020
Executive Order 202.18 CMS Guidance QSO-20-29-NH COVID-19 Information: 10/20/2020
Executive Order 202.18 CMS Guidance QSO-20-29-NH COVID-19 Information: 10/19/2020
Executive Order 202.18 CMS Guidance QSO-20-29-NH COVID-19 Information: 10/18/2020
Executive Order 202.18 CMS Guidance QSO-20-29-NH COVID-19 Information: 10/17/2020
Executive Order 202.18 CMS Guidance QSO-20-29-NH COVID-19 Information: 10/16/2020
Executive Order 202.18 CMS Guidance QSO-20-29-NH COVID-19 Information: 10/15/2020
Executive Order 202.18 CMS Guidance QSO-20-29-NH COVID-19 Information: 10/14/2020
Executive Order 202.18 CMS Guidance QSO-20-29-NH COVID-19 Information: 10/13/2020
Executive Order 202.18 CMS Guidance QSO-20-29-NH COVID-19 Information: 10/12/2020
Executive Order 202.18 CMS Guidance QSO-20-29-NH COVID-19 Information: 10/11/2020
Executive Order 202.18 CMS Guidance QSO-20-29-NH COVID-19 Information: 10/10/2020
Executive Order 202.18 CMS Guidance QSO-20-29-NH COVID-19 Information: 10/9/2020
Executive Order 202.18 CMS Guidance QSO-20-29-NH COVID-19 Information: 10/8/2020
Executive Order 202.18 CMS Guidance QSO-20-29-NH COVID-19 Information: 10/7/2020
Executive Order 202.18 CMS Guidance QSO-20-29-NH COVID-19 Information: 10/6/2020
Executive Order 202.18 CMS Guidance QSO-20-29-NH COVID-19 Information: 10/5/2020
Executive Order 202.18 CMS Guidance QSO-20-29-NH COVID-19 Information: 10/4/2020
Executive Order 202.18 CMS Guidance QSO-20-29-NH COVID-19 Information: 10/3/2020
Executive Order 202.18 CMS Guidance QSO-20-29-NH COVID-19 Information: 10/2/2020
Executive Order 202.18 CMS Guidance QSO-20-29-NH COVID-19 Information: 10/1/2020
Executive Order 202.18 CMS Guidance QSO-20-29-NH COVID-19 Information: 9/30/2020
Executive Order 202.18 CMS Guidance QSO-20-29-NH COVID-19 Information: 9/29/2020
Executive Order 202.18 CMS Guidance QSO-20-29-NH COVID-19 Information: 9/28/2020
Executive Order 202.18 CMS Guidance QSO-20-29-NH COVID-19 Information: 9/27/2020
Executive Order 202.18 CMS Guidance QSO-20-29-NH COVID-19 Information: 9/26/2020
Executive Order 202.18 CMS Guidance QSO-20-29-NH COVID-19 Information: 9/25/2020
Executive Order 202.18 CMS Guidance QSO-20-29-NH COVID-19 Information: 9/24/2020
Executive Order 202.18 CMS Guidance QSO-20-29-NH COVID-19 Information: 9/23/2020
Executive Order 202.18 CMS Guidance QSO-20-29-NH COVID-19 Information: 9/22/2020
Executive Order 202.18 CMS Guidance QSO-20-29-NH COVID-19 Information: 9/21/2020
Executive Order 202.18 CMS Guidance QSO-20-29-NH COVID-19 Information: 9/20/2020
Executive Order 202.18 CMS Guidance QSO-20-29-NH COVID-19 Information: 9/19/2020
Executive Order 202.18 CMS Guidance QSO-20-29-NH COVID-19 Information: 9/18/2020
Executive Order 202.18 CMS Guidance QSO-20-29-NH COVID-19 Information: 9/17/2020
Executive Order 202.18 CMS Guidance QSO-20-29-NH COVID-19 Information: 9/16/2020
Executive Order 202.18 CMS Guidance QSO-20-29-NH COVID-19 Information: 9/15/2020
Executive Order 202.18 CMS Guidance QSO-20-29-NH COVID-19 Information: 9/14/2020
Executive Order 202.18 CMS Guidance QSO-20-29-NH COVID-19 Information: 9/13/2020
Executive Order 202.18 CMS Guidance QSO-20-29-NH COVID-19 Information: 9/12/2020
Executive Order 202.18 CMS Guidance QSO-20-29-NH COVID-19 Information: 9/11/2020
Executive Order 202.18 CMS Guidance QSO-20-29-NH COVID-19 Information: 9/10/2020
Executive Order 202.18 CMS Guidance QSO-20-29-NH COVID-19 Information: 9/9/2020
Executive Order 202.18 CMS Guidance QSO-20-29-NH COVID-19 Information: 9/8/2020
Executive Order 202.18 CMS Guidance QSO-20-29-NH COVID-19 Information: 9/7/2020
Executive Order 202.18 CMS Guidance QSO-20-29-NH COVID-19 Information: 9/6/2020
Executive Order 202.18 CMS Guidance QSO-20-29-NH COVID-19 Information: 9/5/2020
Executive Order 202.18 CMS Guidance QSO-20-29-NH COVID-19 Information: 9/4/2020
Executive Order 202.18 CMS Guidance QSO-20-29-NH COVID-19 Information: 9/3/2020
Executive Order 202.18 CMS Guidance QSO-20-29-NH COVID-19 Information: 9/2/2020
Executive Order 202.18 CMS Guidance QSO-20-29-NH COVID-19 Information: 9/1/2020
Executive Order 202.18 CMS Guidance QSO-20-29-NH COVID-19 Information: 8/31/2020
Executive Order 202.18 CMS Guidance QSO-20-29-NH COVID-19 Information: 8/30/2020
Executive Order 202.18 CMS Guidance QSO-20-29-NH COVID-19 Information: 8/29/2020
Executive Order 202.18 CMS Guidance QSO-20-29-NH COVID-19 Information: 8/28/2020
Executive Order 202.18 CMS Guidance QSO-20-29-NH COVID-19 Information: 8/27/2020
Executive Order 202.18 CMS Guidance QSO-20-29-NH COVID-19 Information: 8/26/2020
Executive Order 202.18 CMS Guidance QSO-20-29-NH COVID-19 Information: 8/25/2020
Executive Order 202.18 CMS Guidance QSO-20-29-NH COVID-19 Information: 8/24/2020
Executive Order 202.18 CMS Guidance QSO-20-29-NH COVID-19 Information: 8/23/2020
Executive Order 202.18 CMS Guidance QSO-20-29-NH COVID-19 Information: 8/22/2020
Executive Order 202.18 CMS Guidance QSO-20-29-NH COVID-19 Information: 8/21/2020
Executive Order 202.18 CMS Guidance QSO-20-29-NH COVID-19 Information: 8/20/2020
Executive Order 202.18 CMS Guidance QSO-20-29-NH COVID-19 Information: 8/19/2020
Executive Order 202.18 CMS Guidance QSO-20-29-NH COVID-19 Information: 8/18/2020
Executive Order 202.18 CMS Guidance QSO-20-29-NH COVID-19 Information: 8/17/2020
Executive Order 202.18 CMS Guidance QSO-20-29-NH COVID-19 Information: 8/16/2020
Executive Order 202.18 CMS Guidance QSO-20-29-NH COVID-19 Information: 8/15/2020
Executive Order 202.18 CMS Guidance QSO-20-29-NH COVID-19 Information: 8/14/2020
Executive Order 202.18 CMS Guidance QSO-20-29-NH COVID-19 Information: 8/13/2020
Executive Order 202.18 CMS Guidance QSO-20-29-NH COVID-19 Information: 8/12/2020
Executive Order 202.18 CMS Guidance QSO-20-29-NH COVID-19 Information: 8/11/2020
Executive Order 202.18 CMS Guidance QSO-20-29-NH COVID-19 Information: 8/10/2020
Executive Order 202.18 CMS Guidance QSO-20-29-NH COVID-19 Information: 8/9/2020
Executive Order 202.18 CMS Guidance QSO-20-29-NH COVID-19 Information: 8/8/2020
Executive Order 202.18 CMS Guidance QSO-20-29-NH COVID-19 Information: 8/7/2020
Executive Order 202.18 CMS Guidance QSO-20-29-NH COVID-19 Information: 8/6/2020
Executive Order 202.18 CMS Guidance QSO-20-29-NH COVID-19 Information: 8/5/2020
Executive Order 202.18 CMS Guidance QSO-20-29-NH COVID-19 Information: 8/4/2020
Executive Order 202.18 CMS Guidance QSO-20-29-NH COVID-19 Information: 8/3/2020
Executive Order 202.18 CMS Guidance QSO-20-29-NH COVID-19 Information: 8/2/2020
Executive Order 202.18 CMS Guidance QSO-20-29-NH COVID-19 Information: 8/1/2020
Executive Order 202.18 CMS Guidance QSO-20-29-NH COVID-19 Information: 7/31/2020
Executive Order 202.18 CMS Guidance QSO-20-29-NH COVID-19 Information: 7/30/2020
Executive Order 202.18 CMS Guidance QSO-20-29-NH COVID-19 Information: 7/29/2020
Executive Order 202.18 CMS Guidance QSO-20-29-NH COVID-19 Information: 7/28/2020
Executive Order 202.18 CMS Guidance QSO-20-29-NH COVID-19 Information: 7/27/2020
Executive Order 202.18 CMS Guidance QSO-20-29-NH COVID-19 Information: 7/26/2020
Executive Order 202.18 CMS Guidance QSO-20-29-NH COVID-19 Information: 7/25/2020
Executive Order 202.18 CMS Guidance QSO-20-29-NH COVID-19 Information: 7/24/2020
Executive Order 202.18 CMS Guidance QSO-20-29-NH COVID-19 Information: 7/23/2020
Executive Order 202.18 CMS Guidance QSO-20-29-NH COVID-19 Information: 7/22/2020
Executive Order 202.18 CMS Guidance QSO-20-29-NH COVID-19 Information: 7/21/2020
Executive Order 202.18 CMS Guidance QSO-20-29-NH COVID-19 Information: 7/20/2020
Executive Order 202.18 CMS Guidance QSO-20-29-NH COVID-19 Information: 7/19/2020
Executive Order 202.18 CMS Guidance QSO-20-29-NH COVID-19 Information: 7/18/2020
Executive Order 202.18 CMS Guidance QSO-20-29-NH COVID-19 Information: 7/17/2020
Executive Order 202.18 CMS Guidance QSO-20-29-NH COVID-19 Information: 7/16/2020
Executive Order 202.18 CMS Guidance QSO-20-29-NH COVID-19 Information: 7/15/2020
Executive Order 202.18 CMS Guidance QSO-20-29-NH COVID-19 Information: 7/14/2020
Executive Order 202.18 CMS Guidance QSO-20-29-NH COVID-19 Information: 7/13/2020
Executive Order 202.18 CMS Guidance QSO-20-29-NH COVID-19 Information: 7/12/2020
Executive Order 202.18 CMS Guidance QSO-20-29-NH COVID-19 Information: 7/11/2020
Executive Order 202.18 CMS Guidance QSO-20-29-NH COVID-19 Information: 7/10/2020
Executive Order 202.18 CMS Guidance QSO-20-29-NH COVID-19 Information: 7/9/2020
Executive Order 202.18 CMS Guidance QSO-20-29-NH COVID-19 Information: 7/8/2020
Executive Order 202.18 CMS Guidance QSO-20-29-NH COVID-19 Information: 7/7/2020
Executive Order 202.18 CMS Guidance QSO-20-29-NH COVID-19 Information: 7/6/2020
Executive Order 202.18 CMS Guidance QSO-20-29-NH COVID-19 Information: 7/5/2020
Executive Order 202.18 CMS Guidance QSO-20-29-NH COVID-19 Information: 7/4/2020
Executive Order 202.18 CMS Guidance QSO-20-29-NH COVID-19 Information: 7/3/2020
Executive Order 202.18 CMS Guidance QSO-20-29-NH COVID-19 Information: 7/2/2020
Executive Order 202.18 CMS Guidance QSO-20-29-NH COVID-19 Information: 7/1/2020
Executive Order 202.18 CMS Guidance QSO-20-29-NH COVID-19 Information: 6/30/2020
Executive Order 202.18 CMS Guidance QSO-20-29-NH COVID-19 Information: 6/29/2020
Executive Order 202.18 CMS Guidance QSO-20-29-NH COVID-19 Information: 6/28/2020
Executive Order 202.18 CMS Guidance QSO-20-29-NH COVID-19 Information: 6/27/2020
Executive Order 202.18 CMS Guidance QSO-20-29-NH COVID-19 Information: 6/26/2020
Executive Order 202.18 CMS Guidance QSO-20-29-NH COVID-19 Information: 6/25/2020
Executive Order 202.18 CMS Guidance QSO-20-29-NH COVID-19 Information: 6/24/2020
Executive Order 202.18 CMS Guidance QSO-20-29-NH COVID-19 Information: 6/23/2020
Executive Order 202.18 CMS Guidance QSO-20-29-NH COVID-19 Information: 6/22/2020
Executive Order 202.18 CMS Guidance QSO-20-29-NH COVID-19 Information: 6/21/2020
Executive Order 202.18 CMS Guidance QSO-20-29-NH COVID-19 Information: 6/20/2020
Executive Order 202.18 CMS Guidance QSO-20-29-NH COVID-19 Information: 6/19/2020
Executive Order 202.18 CMS Guidance QSO-20-29-NH COVID-19 Information: 6/18/2020
Executive Order 202.18 CMS Guidance QSO-20-29-NH COVID-19 Information: 6/17/2020
Executive Order 202.18 CMS Guidance QSO-20-29-NH COVID-19 Information: 6/16/2020
Executive Order 202.18 CMS Guidance QSO-20-29-NH COVID-19 Information: 6/15/2020
Executive Order 202.18 CMS Guidance QSO-20-29-NH COVID-19 Information: 6/14/2020
Executive Order 202.18 CMS Guidance QSO-20-29-NH COVID-19 Information: 6/13/2020
Executive Order 202.18 CMS Guidance QSO-20-29-NH COVID-19 Information: 6/12/2020
Executive Order 202.18 CMS Guidance QSO-20-29-NH COVID-19 Information: 6/11/2020
Executive Order 202.18 CMS Guidance QSO-20-29-NH COVID-19 Information: 6/10/2020
Executive Order 202.18 CMS Guidance QSO-20-29-NH COVID-19 Information: 6/9/2020
Executive Order 202.18 CMS Guidance QSO-20-29-NH COVID-19 Information: 6/8/2020
Executive Order 202.18 CMS Guidance QSO-20-29-NH COVID-19 Information: 6/7/2020
Executive Order 202.18 CMS Guidance QSO-20-29-NH COVID-19 Information: 6/6/2020
Executive Order 202.18 CMS Guidance QSO-20-29-NH COVID-19 Information: 6/5/2020
Executive Order 202.18 CMS Guidance QSO-20-29-NH COVID-19 Information: 6/4/2020
Executive Order 202.18 CMS Guidance QSO-20-29-NH COVID-19 Information: 6/3/2020
Executive Order 202.18 CMS Guidance QSO-20-29-NH COVID-19 Information: 6/2/2020
Executive Order 202.18 CMS Guidance QSO-20-29-NH COVID-19 Information: 6/1/2020
Executive Order 202.18 CMS Guidance QSO-20-29-NH COVID-19 Information: 5/31/2020
Executive Order 202.18 CMS Guidance QSO-20-29-NH COVID-19 Information: 5/30/2020
Executive Order 202.18 CMS Guidance QSO-20-29-NH COVID-19 Information: 5/29/2020
Executive Order 202.18 CMS Guidance QSO-20-29-NH COVID-19 Information: 5/28/2020
Executive Order 202.18 CMS Guidance QSO-20-29-NH COVID-19 Information: 5/27/2020
Executive Order 202.18 CMS Guidance QSO-20-29-NH COVID-19 Information: 5/26/2020
Executive Order 202.18 CMS Guidance QSO-20-29-NH COVID-19 Information: 5/25/2020
Executive Order 202.18 CMS Guidance QSO-20-29-NH COVID-19 Information: 5/24/2020
Executive Order 202.18 CMS Guidance QSO-20-29-NH COVID-19 Information: 5/23/2020
Executive Order 202.18 CMS Guidance QSO-20-29-NH COVID-19 Information: 5/22/2020
Executive Order 202.18 CMS Guidance QSO-20-29-NH COVID-19 Information: 5/21/2020
Executive Order 202.18 CMS Guidance QSO-20-29-NH COVID-19 Information: 5/20/2020
Executive Order 202.18 CMS Guidance QSO-20-29-NH COVID-19 Information: 5/19/2020
Executive Order 202.18 CMS Guidance QSO-20-29-NH COVID-19 Information: 5/18/2020
Executive Order 202.18 CMS Guidance QSO-20-29-NH COVID-19 Information: 5/17/2020
Executive Order 202.18 CMS Guidance QSO-20-29-NH COVID-19 Information: 5/16/2020
Executive Order 202.18 CMS Guidance QSO-20-29-NH COVID-19 Information: 5/15/2020
Executive Order 202.18 CMS Guidance QSO-20-29-NH COVID-19 Information: 5/14/2020
Executive Order 202.18 CMS Guidance QSO-20-29-NH COVID-19 Information: 5/13/2020
Executive Order 202.18 CMS Guidance QSO-20-29-NH COVID-19 Information: 5/12/2020
Executive Order 202.18 CMS Guidance QSO-20-29-NH COVID-19 Information: 5/11/2020
Executive Order 202.18 CMS Guidance QSO-20-29-NH COVID-19 Information: 5/10/2020
Executive Order 202.18 CMS Guidance QSO-20-29-NH COVID-19 Information: 5/9/2020
Executive Order 202.18 CMS Guidance QSO-20-29-NH COVID-19 Information: 5/8/2020
Executive Order 202.18 COVID-19 Information: 5/7/2020
Executive Order 202.18 COVID-19 Information: 5/6/2020
Executive Order 202.18 COVID-19 Information: 5/5/2020
Executive Order 202.18 COVID-19 Information: 5/4/2020
Executive Order 202.18 COVID-19 Information: 5/3/2020
Executive Order 202.18 COVID-19 Information: 5/2/2020
Executive Order 202.18 COVID-19 Information: 5/1/2020
Executive Order 202.18 COVID-19 Information: 4/30/2020
Executive Order 202.18 COVID-19 Information: 4/29/2020
Executive Order 202.18 COVID-19 Information: 4/28/2020
Executive Order 202.18 COVID-19 Information: 4/27/2020
Executive Order 202.18 COVID-19 Information: 4/26/2020
Executive Order 202.18 COVID-19 Information: 4/25/2020
Executive Order 202.18 COVID-19 Information: 4/24/2020
Executive Order 202.18 COVID-19 Information: 4/23/2020
Executive Order 202.18 COVID-19 Information: 4/22/2020
Executive Order 202.18 COVID-19 Information: 4/21/2020
LISVH FAQ Sheet
Frequently Asked Questions- COVID 19
For further clarification or additional questions please contact the Social Work Department at 631-444-8545
LISVH Screening Procedures