Our residents actively share special bonds and camaraderie
Maximizing the quality of life for each resident is the primary focus at the LISVH. Contrary to popular belief, nursing homes can be fun!
Certified Therapeutic Recreational Therapists offer a variety of stimulating leisure activities designed to meet the residents' personal preferences and individual needs. Every resident is assessed by our therapists and individual plans for recreation are developed in conjunction with the resident and their families.
Programs are designed to provide the social, creative, and intellectual stimulation that is vital to a resident's emotional and physical well-being regardless of their cognitive capacity.
Our diverse array of programs include arts and crafts, Chef's Club cooking programs, Snozelen multisensory stimulation therapy, music and dance, photography, virtual reality, pet therapy, computer workshops, interactive and touch screen video games, adult education seminars, sports and fitness, table games and so much more.
With frequent live entertainment, holiday and birthday celebrations, intergenerational programs with elementary, high-school and college students, visits from many community groups, and Veterans Service Organizations, our resident programs are always exciting.
Our residents remain to be active participants in the community. Our Therapeutic Recreation staff organizes numerous trips to local places of interest. We regularly attend sporting events including Belmont Racetrack, New York Islander Hockey games, Long Island Ducks baseball games, a variety of Stony Brook University Division I athletic events, and we even do a little fishing.
Pet Visitation
We encourage families and friends to have their pets visit the home. However, there are certain guidelines that need to be followed to ensure the safety to all. Pets without "Pet Badge" can not be admitted to the facility. The below documents should be printed and completed forms returned to the Therapeutic Recreation department for your pet to receive their badge. If you have any questions, please call Therapeutic Recreation at (631) 444-8522.
Click here for Recreational Therapy Web Show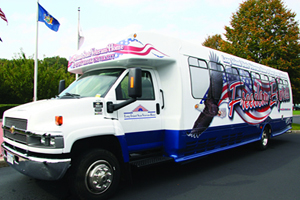 For those residents seeking a little culture, we frequently visit local museums and attend concerts and performances at the Staller Center for the Arts, the Avram Theater at Stony Brook-Southampton, and the Patchogue Theatre for the Performing Arts. Shopping trips and dining at local restaurants are also favorites among our residents. We offer something for everyone at the Long Island State Veterans Home.