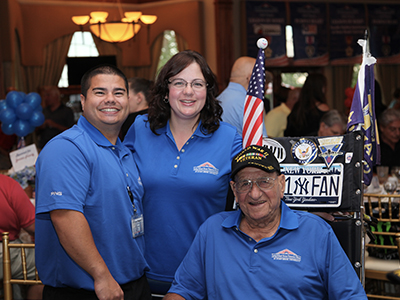 Our volunteers offer an extra dimension of care and service to the resident veterans, empathy for families and visitors, and supportive services for staff. Having the opportunity to give back to those who fought to preserve our freedom and democracy in America is a rewarding and honorable experience. No previous experience is necessary to make a difference. Our volunteers are provided orientation and training to be successful in their positions. When possible we offer flexibility with schedules and no weekly commitment. 
New applicants and returning volunteers must submit proof of COVID-19 Vaccination, if applicable.
For more information please contact Samantha Calandrino in Volunteer Services by email at Samantha.Calandrino@lisvh.org or by telephone (631) 444-8590.
---
HOW TO GET INVOLVED
Complete and email/postal mail in one of the following applications in order to receive information about our next volunteer orientation and training. See the instructions on the cover letter of the application for more information.
Mail the application to:
Volunteer Services
Long Island State Veterans Home at Stony Brook University
100 Patriots Road, Stony Brook, NY 11790
You may also fax it to (631) 706-4662 or scan it and email to Diane Reisz at Diane.Reisz@lisvh.org.
---
WHY VOLUNTEER?
To Give Back
Give back to those who fought to preserve freedom & democracy in America
Touch a life in a meaningful way
Break the isolation so many nursing home residents feel
Contribute to the community
To Gain Fulfillment
Make new friends
Experience a sense of belonging
Have fun
Experience gratitude
Be a part of a very special & active facility
Live a longer, healthier, more fulfilled life
Learn about skilled nursing care facilities & how to chose a good one.
For Experience
Gain insight into the fields of Gerontology & Health Care
Learn about various careers
Expand your resume and/or college application
Develop relationships for letters of recommendation
Volunteer Benefits
"Café Card" to use in our café for meals and snacks
Annual holiday event in December 
Annual recognition event in the summer
Recognition pins & certificates for hours volunteered
Service awards for years of service
Celebrations during National Volunteer week in April
Training workshops throughout the year
Informative newsletter
---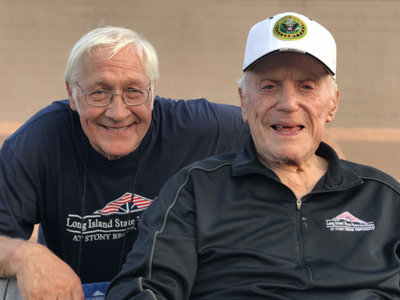 FREQUENTLY ASKED QUESTIONS
What is the application process to volunteer?
Before they get started volunteers will submit an application to receive an invitation to the next orientation and training.
How soon can I start volunteering?
In order for us to make sure we place you in the best volunteer assignment (that meets both your needs and the facility's) you will need to complete the application process before you are accepted as a volunteer. Once you hear that you are accepted, from the Volunteer Department, you can get started right away.
What would I do as a volunteer?
Volunteers work in various assignments throughout the facility. Placement would depend on the volunteer's skills, schedule and interest, as well as the facility's current needs. We have volunteers assisting our residents in many areas including with our recreation programs and trips, physical and occupational therapy departments, religious services, friendly visiting and our resident library. Volunteers also assist with pet therapy, taking care of the facility's indoor plants, staffing our gift shop, beauty parlor, helping out in our cafeteria and laundry and assisting in many offices. It is our job to help place you in a volunteer assignment that you enjoy and that meets the facility's needs.
Is there a minimum number of hours required?
We have a minimum of 30 annual hours we ask of volunteers. Some departments offer flexibility and a volunteer does not need to come in weekly. Other assignments require a set schedule each week.
What are the hours?
We have volunteer opportunities both daytime and evening, during the week and on weekends. The hours depend on the specific volunteer assignment.
Where do you need the most help?
Although we can use volunteer's help in a variety of areas and during a variety of hours, one of our biggest needs is volunteers to assist our Recreation Department during the evenings (usually Tuesday, Thursday and Sunday) and weekends. We also can use volunteers to help our Recreation Department with some of their bigger trips, such as the trips to Belmont Race Track and monthly shopping. Trips are usually on Wednesdays. Another need we have is volunteers to provide one-on-one visits with our residents, through our "Resident Support" program. In addition we have some skilled based volunteer opportunities which include our Unit Assistant and Feeding Assistant positions.
Can I volunteer with a friend or family member?
Yes, we have many couples, family members and friends who volunteer together. Some work in the same job together, others just come in the same time but work in different areas. If you want, we will try and place you together.
Do I need to have experience to volunteer? 
No, there is no previous knowledge or education necessary. We provide training and guidance to help your volunteer experience with us be a success.
Is there training and support?
Yes, before you get started as a volunteer you will attend a volunteer training. In addition you will receive "on the job" training and support from our staff. We also provide volunteers with training workshops throughout the year as an opportunity for you to improve your skills and increase your fulfillment from your volunteer work.
Are there opportunities to meet other volunteers?
Yes, every year we have several events for volunteers. This gives volunteers an opportunity to get to know each other, make friends and learn from each other's experience. These include our volunteer training workshops, recognition events and activities and committee involvement.
---
LINKS & RESOURCES
For more information, please contact Diane Reisz, Volunteer Department Secretary at 631-444-8592.