On behalf of our Veterans, we thank you for your support. Your donations help to bring new innovative programs, new equipment and to enhance the quality of life for the Veterans we serve.
The LISVH is a 350 bed not-for-profit skilled nursing facility located on the campus of Stony Brook University. The dedicated staff at the LISVH stands ready to provide short term rehabilitation, skilled nursing care and adult day health care to the 250,000 veterans who reside on Long Island; those brave men and women who have helped to make our nation secure and have advanced the cause of freedom throughout the world.
The LISVH has earned the reputation as a leader among the nation's 150 State Veterans Homes as well as private long term care and rehabilitative care providers. As one of the few "teaching nursing homes" in the United States, we are proud of our mission to train the next generation of physicians, nurses, therapists, dieticians, social workers and administrators as it relates to the care of the frail, elderly population. Our veterans truly benefit from our relationship with Stony Brook Medicine.
DONATE
By making a gift to the LISVH you are joining thousands of individuals who, each day, are committed to helping our area's veterans. Your gift, regardless of its size, will go a long way toward enriching the lives of these men and women and the programs and services offered by the LISVH. Many different donation opportunities are available including our "Wish List" to help brighten the life of a Veteran.
Donations for the Long Island State Veterans Home are made through the Stony Brook Foundation, a privately governed 501(c)(3), nonprofit corporation whose mission is to manage private funds on behalf of the Long Island State Veterans Home. The Foundation is classified as a public charity. Please consult your tax advisor for deduction information.
6 WAYS TO DONATE
1) Gifts of Credit Card or Check
Gifts of this type are valuable because the funds are immediately available to the LISVH for the purpose specified. Gifts should be made in U.S. currency and payable to the Stony Brook Foundation, Inc.
To make a gift using your credit card, click here to Donate Online.
To make your gift by check, please fill out our Donation Form and send it by mail along with your check (payable to the "Stony Brook Foundation") to:
Long Island State Veterans Home
Community Relations
100 Patriots Road
Stony Brook, NY 11790-3300
631-444-VETS  or 631-444-8615
2) Hall of Heroes
The Long Island State Veterans Home at Stony Brook University is a special place that our military veterans are proud to call their home. In an effort to honor them, we invite you to become a sponsor of our Halls of Heroes. The program is designed to help make our veterans feel more at home by creating customized artwork to hang in our hallways.
3) Honorary and Memorial Gifts
This is thoughtful way to recognize a relative or colleague. Your generosity can acknowledge the life and work of someone close to you and create a lasting tribute to the person honored or memorialized. An endowed gift is an effective way to make an honorary or memorial donation. Please contact us to help you identify honorary or memorial gift opportunities at any level.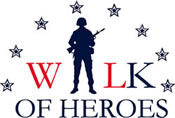 4) Walk of Heroes
In an effort to continue to improve the quality of care that we provide to our residents and their families, the Long Island State Veterans Home has created The Walk of Heroes commemorative brick program. Through this program, individuals and organizations can purchase a personalized concrete paving stone (Benefactor's Brick) in our Walk for as little as $200. For a contribution of $1,000 a granite Commemorative Star can be purchased, which offers more prominent recognition. 
Click here to purchase a commemorative brick or star on the LISVH Walk of Heroes.
5) Gifts of Tangible Personal Property
Specialized equipment, rare books or manuscripts and artwork are examples of tangible property gifts that the LISVH will accept if the potential gift is of use to the LISVH. Please note that the LISVH cannot appraise or assign valuation to gifts of tangible property. Individuals: The law requires that when you estimate your gift at $5,000 or more and intend to claim it as a tax deduction, you must obtain a written appraisal by a qualified independent appraiser. In order for you to claim a gift of tangible personal property on your income tax return, please forward a completed IRS Form 8283. Corporations: Consult your tax advisor for information on the potential tax deductibility o your firm's gift and for the proper procedure to claim it.
Gifts of Real Estate: Please contact us to discuss this type of gift.
Gifts of Other Assets: Subject to a thorough review by the Stony Brook Foundation Investment Committee, gifts for non-traditional investments, such as promissory notes, patents, partnership interests and closely-held stocks can be donated. Please contact us to discuss donation of a non-traditional investment.
6) Planned Giving
The LISVH can accept planned gifts and will serve as sole trustee of any deferred gift that requires the appointment of a fiduciary. Donors who give $25,000 or more are eligible to join the John S. Toll Heritage Society. The Stony Brook Foundation accepts the following types of planned gifts: bequests and life insurance policies.
Bequests:
A bequest is a gift of any amount or form made to the Stony Brook Foundation in a donor's will. The following is recommended language that may be used to make a gift to the Stony Brook Foundation through your will: "I give, devise and bequeath to the Stony Brook Foundation, Inc., Stony Brook, NY 11790, (percentage of residue, sum or description of property), the principal and income of which shall be used for (you may describe a specific purpose for the use of your bequest)." Bequests may be made in the following ways:
Specific Bequest: Stipulates an amount, a percentage, or particular securities or other assets.
Residuary Bequest: States that all or a portion of your estate be given after specific amounts are distributed to other beneficiaries.
Contingent Bequest: Directs that your assets be distributed if your primary heirs to not survive you.
Life Insurance Policies:
The Stony Brook Foundation (SBF) must be designated as the irrevocable owner and beneficiary of the policy in order for life insurance to constitute a gift. For policies that are not paid up, the donor contributes the money required for the premium payments directly to the Stony Brook Foundation which will then make the premium payments to the insurance carrier. The minimum amount for the policy is $25,000.

Please send contributions to:
The Long Island State Veterans Home at Stony Brook University
Attention: Community Relations
100 Patriots Road
Stony Brook, NY 11790
 
For more information, please call Jonathan Spier, Deputy Executive Director, at (631) 444-8615 or email jonathan.spier@lisvh.org